News
Globes
New screening dates:
Synopsis — Caught in a dance, bees tell each other stories about the world around them. People equally claim their role in those stories, sometimes very close and intimate, sometimes distant and on an industrial scale. Nina de Vroome's thoughts also swarm as bees do: from the smallest cell in a honeycomb to the global economy, her essayistic nature documentary Globes charts the bond between humans and bees. As accomplished storytellers, they both give shape to lives under the sun.
Globes is a film by Nina de Vroome, produced by Blauwhuis and co-produced with Gardner and Domm. With the support of the Flemish Audiovisual Fund (VAF), the City of Ghent, The Tax Shelter of the federal government of Belgium, Gallop Tax Shelter and the Tax Shelter investors. Distributed by Avila Film.
Running time: 89 minutes.
In Dutch, English and Slovenian.
Subtitles in Dutch, English and French.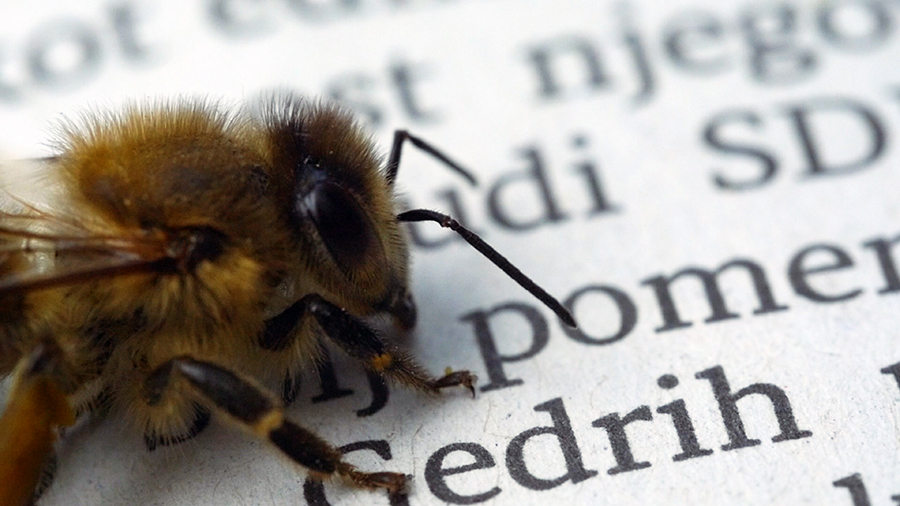 ---
Listen to Nina's contribution to The Bandwagon, Sabzian's series of film-related mixes.
---
Film Place Collective
On the website of Film Place Collective you can find a portrait of my study. It is a written journey though the space in which I made the collage-film "Blanqui and the Stars", which is equally on view there.
"Every door is a wall in motion. I remember how as a child I hung on the door handle and swung back and forth by pushing myself against the walls. Like all children, I could go on endlessly to exhaust a single observation that unfolded a range of viewpoints. The architecture is shaken loose by this dance with the door. If you swing in one direction, the space closes off and you find yourself in an intimate room. If you swing in the other direction, the echoing hall flows in. Closing and opening the door transforms the two spaces. An open door joins spaces, allows light into the hall and draws sound into the room. It initiates an interaction between the two spaces. When you close the door again, openness is exchanged for intimacy. In a room enclosed by a door, there is room for confidentiality. A room with a closed door is where private life takes place."
---
Een idee van de zee [A Sea Change] (2016) is available for streaming on the Belgian distribution platform Avila. Watch the film here.
Avila offers both contemporary and classic documentary and fiction films which the public can endlessly (re)discover. The platform was founded by filmmakers and takes off with a selection of Belgian films.
The catalogue of the online platform explicitly avoids an overload in which a film threatens to drown and disappear, presenting a selection based on editorial choices. Every one of the films offered by Avila transcends the ephemeral and continues to resound aesthetically, technically, politically or historically.
---